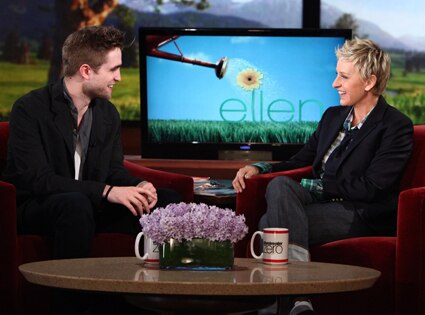 If only Twilight's Edward Cullen were as funny as this nit wit.
Robert Pattinson appears on Ellen DeGeneres' talk show Wednesday, and the actor discusses one of the important issues of the day: namely, that brand-new haircut.
"I got a terrible infestation of nits and I had to shave it all off," joked Pattinson before revealing his chopped off his locks three days ago for his role in Water for Elephants with Reese Witherspoon.
And then after a brief digression into the world of nits, gnats and lice, the actor had something else to reveal...
Working that self-deprecating charm, Pattinson talked about the difficulties of being shy and having to speak in public. (Though just like on Oprah, he didn't seem to be having any shyness problems speaking in public on this show.)
"I just like doing things where you have a little time to think about what you're saying. I've always had a problem actually thinking before I open my mouth," said Pattison. "Yeah, being spontaneous or just thinking. I have a problem with thinking."
"Just thinking, period?" asked Ellen.
"Thinking in real time," clarified Pattinson, somewhat proving his point. But at least he has plenty of time to think about what he said before the interview airs Wednesday.
eonline.com