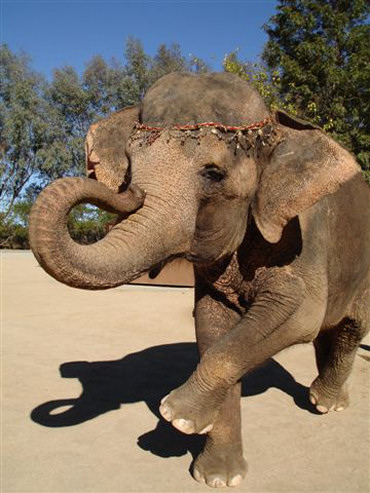 Ladies and gentlemen! Meet Tai, the 8,800-pound elephant who will play Rosie and share the screen with Robert Pattinson, Reese Witherspoon, and Sean Penn in Water For Elephants.
The film, which is based on a Great Depression-era story by author Sara Gruen, will follow a veterinary student who leaves his schooling after his parents are killed and instead takes up with the circus. Tai hails from the Have Trunk Will Travel conservation and will play the stubborn elephant who seems untrainable until Pattinson's character wins her over. The HTWT website says Tai is "very intelligent and loves to take naps and play". She also "likes people and every other elephant she sees".
One thing is for certain — sharing the screen with Pattinson is no peanuts part!
petsugar.com