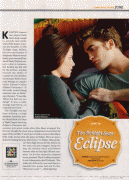 A new Twilight: Eclipse photo has made it's way online! Entertainment Weekly is featuring Twilight: Eclipse in it's summer movie preview section! In the accompanying article, Kristen Stewart dishes a bit about Bella's role in Eclipse. She says of kissing Jacob, "It felt really weird kissing someone else as Bella. I was like 'What the hell are you doing?' It was really a strange experience - as it should have been". Kristen also talks about some of the things Bella goes through in Eclipse including graduating high school and getting engaged!
The article goes on to talk a little bit about the shooting schedule of Eclipse.
The next installment in the Twilight Saga is due out in theaters on June 30th, 2010.